Hardly will you see this beautiful damsel not smiling in her photos. She's a sunburst of pure joy and beauty. Meet our Fashionista for the month of September – SHARON OOJA
WHO IS SHARON OOJA?
Sharon Ooja Egwurube is a Nigerian actress, model and red carpet host. She hails from Benue State, but was born in Kaduna state and raised in Plateau state. She is a full Northern girl as she describes herself.
She bagged her first degree from Houdegbe American University, Benin Republic where she studied Mass Communication. She captured the hearts of fans home and abroad when she played the role of "Shalewa" in famous Web series, Skinny girl in Transit. Apart from the series, she has also featured in other films such as King of Boys, Lara and the Beat, Coming from Insanity, Moms at War, From Lagos with Love, Gidi Up, Jenifa's diary Season 12 and The Men's Club.
Sharon's style is classy, chic, refreshing and super sassy. From the red carpet to on screen and off screen moments, one thing is certain, Sharon is a show-stopper!!!!
OWANBE DIVA
When it comes to wedding parties or Owambe like it's called in Yoruba, this diva knows how to work it. From stunning silhouettes to thigh high slits and fabulous gele styles, Sharon is the ideal muse for wedding guest inspo.
We heart this stunning Owambe look on Sharon. The puff sleeves adds that statement element to the overall look. Coupled with the fab neckline that flatters her decolatage.
We also can't help but swoon at this sleek number. The intricate details, feathery bottom and the overall look is just impeccable!!
FEMININE FABULOUSITY
Sharon Ooja's style is incredibly feminine, sassy and romantic too. She knows what works for her and her amazing shape.
Peep out this sleek outfit which she wore to The Future Award Africa 2017. It fit her body like a glove and flattered her figure nicely. The gold details also added a bit of sparkle, lightning up the look.
Sharon is the golden lady in this fabulous number. She finished off her look with straight and sleek hair, heels and let's not forget that dashing smile.
This article would not be complete without adding this romantic and gorgeous ruffled white dress. Sharon wore the beautiful number in Jamaica to fulfill her host duties. It has all the island feels and we are in love.
Another fashion moment for this diva, was during the GTBANK Fashion Weekend. Sharon turned heads in this amazing outfit. She paired a crop top with a spaghetti strap and a fabulous fitted pencil skirt with amazing details that brought the whole look together. She finished off her look with black thin-strapped heels.
GLAM QUEEN
Sharon pulls off the glam style graciously. With her carriage and charisma, she's the ultimate glamour queen.
Check out this gorgeous outfit she wore to a function. With her favorite thigh high slit and her signature model pose, she was definitely on top of her glam game. She also balanced her outfit with a natural face beat which makes it all the more classy.
We adore this classic sparkly outfit with the vintage feel. The fringe details and the hair fascinator rounded off the look nicely giving it the classic edge.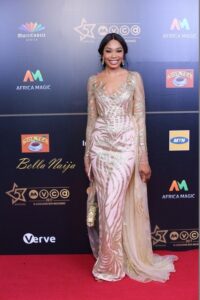 Sharon Ooja the Glam Queen, I stan!!
AFRICAN DIVA
If you're looking for ways to spice up your African wardrobe, look no further, because Sharon is your perfect muse. Whether it's a two-piece or a fitted style, Sharon makes sure to own it.
Our fashionista was all shades of cuteness in this African print dress. Rocking the print on print trend, this diva completed her look with a beautifully styled bow headtie. Talk about a statement look!!!
We also love how she mixed her African print material with sequins. Who says African style can't be glamorous??
CASUAL & CHIC
When it comes to Sharon's casual style, she keeps it clean, comfy and stylish as well. Our fashionista loves to rock denim, crop tops, two-piece outfits, sneaks, amongst others.
CONCLUSION
They say "happy girls are the prettiest". Sharon Ooja is one happy and bubbly lady, definitely a pretty woman and our fabulous September FASHIONISTA!!!
We love you Sharon!!